11th June 2019
Best Bluetooth Hearing Aids So Far in 2019
Our Experience With Bluetooth Hearing Aids
In the article "Five Best Bluetooth Hearing Aids For 2019", Hearing Aid Know detailed what they felt were the five best hearing devices with Bluetooth this year. The article spurred us to write about our experiences with Bluetooth enabled hearing aids, what we have found, and how our customers get on with them. For this article, we want to focus on the new Phonak Marvel and the Oticon Opn S range.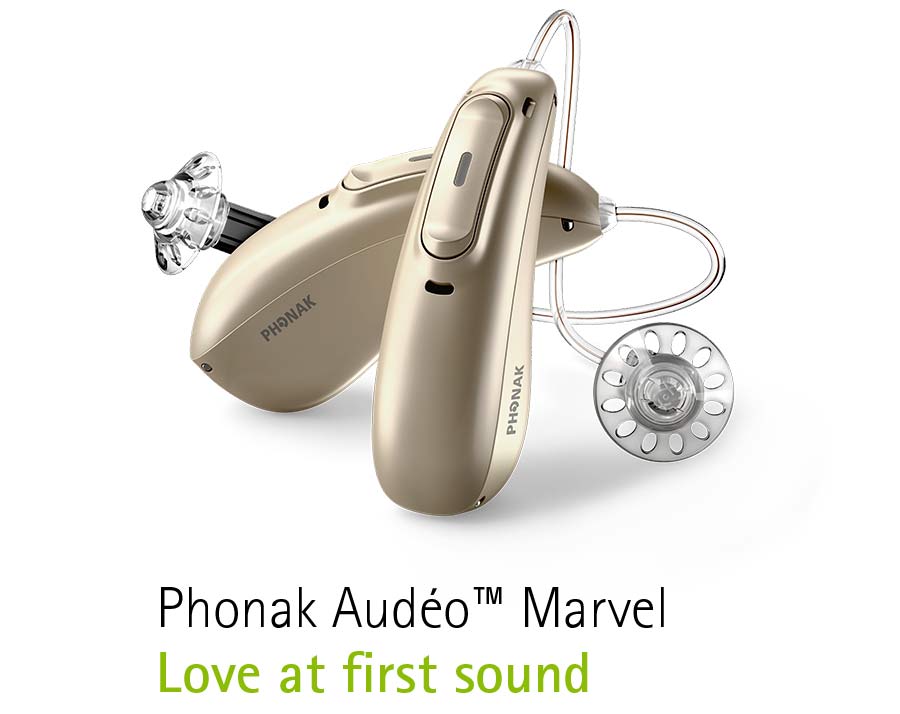 The Phonak Marvel
The introduction of the Marvel range set of a lot of excitement in the hearing aid world. The hype from Phonak was huge, but has it delivered? In our experience so far, we would have to say yes. The Marvel range has proved to be an excellent set of hearing aids with amazing features and apps to go with it.
Limited Range, But Will Change
Unfortunately, the Marvel is a limited range with just Receiver In Canal hearing devices available, but it will eventually be a full range of hearing aid types. The Marvel is available over four technology levels though so there is a good spread. The real talking points with the Marvel are the rechargeable version and that amazing connectivity.
Battery Life
The battery life of the Marvel is in line with many of the rechargeable devices available. Our customers have had very little problem getting a full day's use even with phone streaming and streaming from their TV connector. The same can be said for the zinc-air powered devices on the range.
Amazing Connectivity
The connectivity of the Marvel is where this hearing aid shines. The Marvel can connect to any device that offers a Bluetooth audio connection. Every single mobile phone we have tried from the Samsung Galaxy, the iPhone even a Doro phone, it connected without issue. It also connects to TVs, computers and Macs. Customers really love the ability to connect to other devices without the need for a streamer.
Hands Free Calls
They also love the hands free call system, in fact, they are quite blown away by it. The Marvel offers completely hands-free calls, you don't even have to touch your phone to answer a call, simply press the button on your hearing aid to answer and end the call.
The Marvel really is an excellent hearing device range, and although it is a little limited at the moment, we only expect it to get better as Phonak introduce more hearing aid types on the platform.
Oticon Opn S Hearing Aids

Oticon released the new Opn S platform in March this year and again, we have been impressed with it. The Opn S range consists of four models across three technology levels. The devices are both internet enabled and Bluetooth enabled. Oticon has made the Opn S even better with new and upgraded features which build upon the original. The Opn S offers an upgraded OpenSound Navigator system which is the feature responsible for their famous unique directionality system.
Battery Life
Otiocn offers a lithium-ion rechargeable Opn S device and the battery life is in line with the Phonak Marvel. Battery life across the rest of the range is in-line with most other brands, you can expect anything between five and seven days depending on streaming from zinc-air batteries. In our customer's experience, the rechargeable hearing aid provides a full day of use with decent streaming levels on a single charge.
The Connectivity
The Opn S range will only directly connect to iPhones and iPads. To use audio streaming and call streaming with Android phones and other Bluetooth enabled devices, you will need an intermediary streamer. The Opn S range does not offer direct connectivity to computers or Bluetooth enabled TVs. However, you can connect to all of these devices through one of the Oticon wireless accessories.
The Connect Clip
The Oticon Connect Clip is a multi-functional streamer device that is really amazing. The device acts as a remote microphone, a remote control and a Bluetooth streamer for phones and computers. It is a very discreet device and works exceptionally well. Our customers love this device, when in a noisy environment, they simply give the Connect Clip to their companion and they can hear them directly in their hearing aids. They also love to be able to talk hands-free on their phones through the device.
For us, the Marvel and the Opn S are some of the best Bluetooth hearing aids around, and our experience with them has been fantastic. If you have any questions about Bluetooth hearing aids in Edinburgh, are looking for a hearing test, or are interested in ear wax removal, give us a call on 0131 629 1819 or contact us online now.

What Our Patients Say
Rated 5 out of /5 based on 3 customer reviews
Hearing Aids
Hearing aids supplied and fitted to patient's individual hearing loss
Extremely Professional
This practice and all staff within are extremely professional. Katie will put you at ease the minute you sit in the chair. I have used this practice on numerous occations and came away extremely satified with the treatment i received. If you suffering with ear wax problems try them!! I guarentee you won`t be disappointed. You never know, you may even get a cuddle from POPPY!!!!!
Gordon Tyers
Hearing Aids
Hearing aids supplied and fitted to patient's individual hearing loss
Comprehensive and Meticulous
I am an experienced hearing aid user who recently attended Edinburgh Hearing Aid Practice for assessment. The latter was the most comprehensive I have experienced to date. Audiologist Katie was meticulous in arriving at the best solution for me. She has a positive and sympathetic approach which is so important in this sensitive area.
Philip Michaelson
Hearing Aids
Hearing aids supplied and fitted to patient's individual hearing loss
Friendly and Professional
My appointment with Katie was informative, professional and relaxed. She immediately put me at ease regarding the procedure I was about to have and advised me on the best earplugs to protect my hearing whilst playing loud music. I cannot recommend Edinburgh Hearing Practice enough. Receiving a friendly welcome from reception and a professional consultation made the whole experience worthwhile.
Greg Sivills
Hearing Aids
Hearing aids supplied and fitted to patient's individual hearing loss