10th March 2015
Finally... Hear well in noise & on the phone!
Roger Wireless Devices
Are you living with a hearing loss? Would you like to hear in a noisy environment again, or hear your family and friends when they call you on the phone? The Edinburgh Hearing Practice can make this a reality!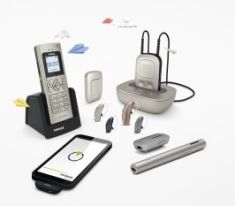 You are welcome to come in and talk in a relaxed environment to one of our experienced audiologists. You can take advantage of our FREE hearing tests and try out the very latest solutions. You will be amazed how clearly you can hear again
Independent research has shown that with the new Roger wireless microphones people can

hear up to 54% better

in noisy environments than with any other product available. New wireless telephones which work with the hearing aid directly can improve speech understanding

by over 40%
We are an independent family run practice with over 25 years of experience in hearing healthcare. Arrange your appointment today on 0131 629 1819
Whether it's cutting edge microphones, cordless phones or audio streamers you will get exactly the boost you need, no matter the situation.


What Our Patients Say
Rated 5 out of /5 based on over 40 customer reviews
Hearing Aids
Hearing aids supplied and fitted to patient's individual hearing loss
Extremely Professional
This practice and all staff within are extremely professional. Katie will put you at ease the minute you sit in the chair. I have used this practice on numerous occations and came away extremely satified with the treatment i received. If you suffering with ear wax problems try them!! I guarentee you won`t be disappointed. You never know, you may even get a cuddle from POPPY!!!!!
Gordon Tyers
Hearing Aids
Hearing aids supplied and fitted to patient's individual hearing loss
Comprehensive and Meticulous
I am an experienced hearing aid user who recently attended Edinburgh Hearing Aid Practice for assessment. The latter was the most comprehensive I have experienced to date. Audiologist Katie was meticulous in arriving at the best solution for me. She has a positive and sympathetic approach which is so important in this sensitive area.
Philip Michaelson
Hearing Aids
Hearing aids supplied and fitted to patient's individual hearing loss
Friendly and Professional
My appointment with Katie was informative, professional and relaxed. She immediately put me at ease regarding the procedure I was about to have and advised me on the best earplugs to protect my hearing whilst playing loud music. I cannot recommend Edinburgh Hearing Practice enough. Receiving a friendly welcome from reception and a professional consultation made the whole experience worthwhile.
Greg Sivills
Hearing Aids
Hearing aids supplied and fitted to patient's individual hearing loss