10th March 2022
Oticon Expands More Range With Two New Behind The Ear Hearing Aids
Two new BTE hearing aids including a Rechargeable device
Oticon has announced the expansion of the More hearing device range with two new BTE (Behind The Ear) hearing aids. While the MiniRITE devices available up to now are both excellent and cover a lot of hearing losses, many people may not be suitable candidates for a receiver in the ear device. So that means the introduction of the BTEs is very welcome.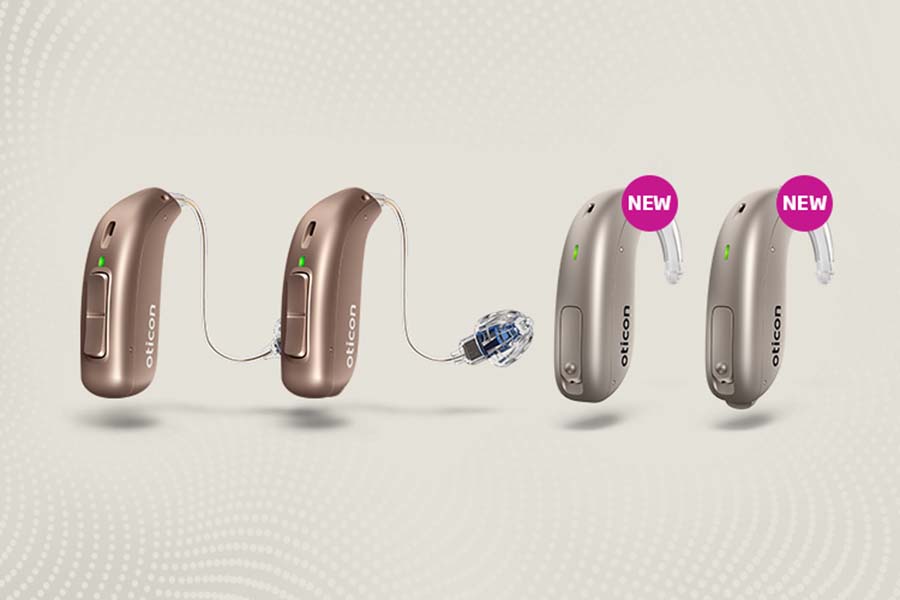 Suitable for More people
Yes, the pun is intended, however, the introduction of the BTEs to the More range means that More, is suitable for more people. People who have chronic middle ear issues or who may have had mastoid problems in the past are not ideal candidates for RITE hearing aids.
Even something simple as very waxy or wet ears could ensure that someone is not suitable for RITE devices. It could mean that the receivers in the ears were bound to fail regularly. Behind The Ear hearing devices, while seen as more traditional,
are ideal for people like this. The receiver is tucked away safely in the aid and therefore not exposed to the problems that a receiver in the ear would be. BTE hearing aids are smaller than ever, while still delivering the power that some users need. Oticon has done an outstanding job here and their MiniBTEs are very discreet. You can see from the picture above that they aren't much bigger than the miniRITEs.
The two new miniBTEs offer the outstanding functionality of the Oticon More platform with the option of rechargeable or non-rechargeable styles. The miniBTE R (Rechargeable) uses lithium-ion batteries for a full day of battery life. The miniBTE T (Telecoil) uses disposable zinc-air batteries.
If you have any questions about hearing loss or hearing aids, are looking for a hearing test, or are interested in ear wax removal, give us a call on 0131 629 1819 or contact us online now.

What Our Patients Say
Rated 5 out of /5 based on 3 customer reviews
Hearing Aids
Hearing aids supplied and fitted to patient's individual hearing loss
Extremely Professional
This practice and all staff within are extremely professional. Katie will put you at ease the minute you sit in the chair. I have used this practice on numerous occations and came away extremely satified with the treatment i received. If you suffering with ear wax problems try them!! I guarentee you won`t be disappointed. You never know, you may even get a cuddle from POPPY!!!!!
Gordon Tyers
Hearing Aids
Hearing aids supplied and fitted to patient's individual hearing loss
Comprehensive and Meticulous
I am an experienced hearing aid user who recently attended Edinburgh Hearing Aid Practice for assessment. The latter was the most comprehensive I have experienced to date. Audiologist Katie was meticulous in arriving at the best solution for me. She has a positive and sympathetic approach which is so important in this sensitive area.
Philip Michaelson
Hearing Aids
Hearing aids supplied and fitted to patient's individual hearing loss
Friendly and Professional
My appointment with Katie was informative, professional and relaxed. She immediately put me at ease regarding the procedure I was about to have and advised me on the best earplugs to protect my hearing whilst playing loud music. I cannot recommend Edinburgh Hearing Practice enough. Receiving a friendly welcome from reception and a professional consultation made the whole experience worthwhile.
Greg Sivills
Hearing Aids
Hearing aids supplied and fitted to patient's individual hearing loss