20th December 2021
Oticon Launches New Hearing Aids For 2021
Meet the new Oticon More platform
We have had quite a bit of success with Oticon hearing aids since being introduced to the original Opn platform. So we were glad to see that they were updating their technology for 2021. They say these will be even better than anything that has gone before. Considering the success we have had with the Opn and Opn S2 it will be interesting to see them in action.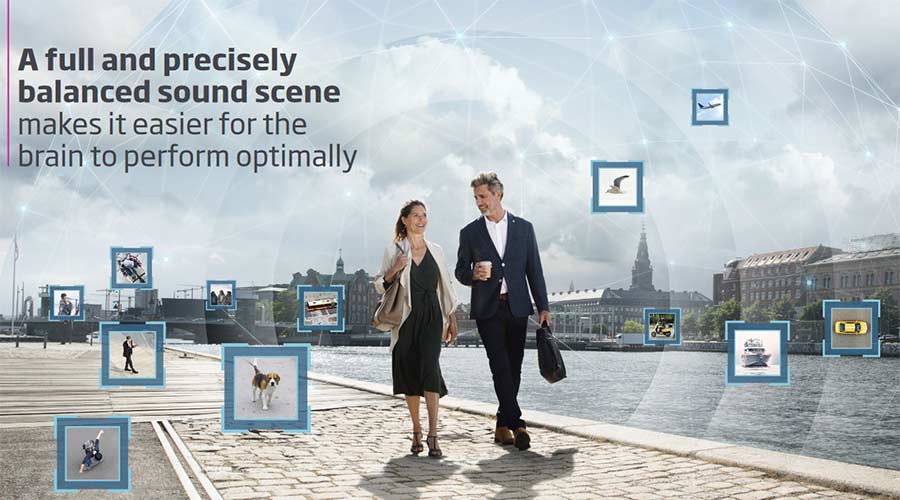 Oticon has focused on Brain Hearing technology for many years. They believe that the brain needs all of the sound information so that it can process it effectively. That belief underlies their sound strategy which to pardon the pun, opns the world of sound to the user.
More is the name of the new platform, and it is powered by a new chipset called PolarisTM. Oticon says that in comparison to the Velox S platform, More has the following advances:
16 times more capacity to execute advanced algorithms
Intelligent use of industry-leading 64-channel processing
Twice as much computation capacity and speed
Deep Neural Network processing
Double the precision in 1.5-5kHz frequency bands
With their new chipset, Oticon has been able to expand and evolve their audiological strategy that began with the Opn a few years ago. Oticon believes that to activate the power of your brain you should offer wider access to your surrounding environment. They have seen some real success with this approach and our customers love it.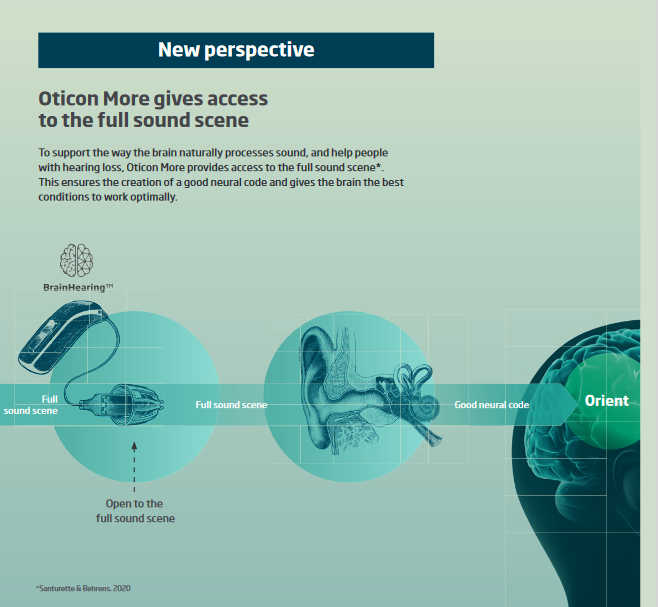 The New Hearing Aids
Initially, they are introducing a rechargeable miniRITE (Receiver In The Ear). It is a very discreet Receiver In Canal hearing aid. The miniRITE sits well on the ear and for all intent and purpose is invisible to anything but the closest inspection.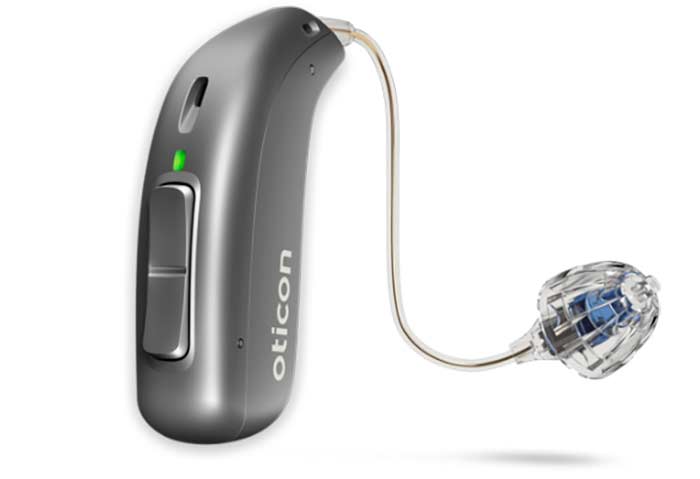 Made For iPhone and Made For Android
The new device is both a Made For iPhone and a true Made For Android hearing aid. It will offer direct connectivity including audio streaming from both iPhones and many Android phones using Android 10 and above. The device uses Oticon's lithium-ion rechargeable cell, which unlike many others, can be changed in the clinic if needed.
For most people, the system will offer a full day of hearing, including streaming, with a 3 hours charge. It has a convenient double push-button making it easy to control volume and adjust programmes. The aids are also IP68-certified. That means they can withstand humidity and dust.
500 Times Per Second
The hearing aid scans and analyses the sound scene 500 times per second to understand the complexity of the environment that you are in. The hearing aid then organises the sounds around you to create a clear contrast and balance between them.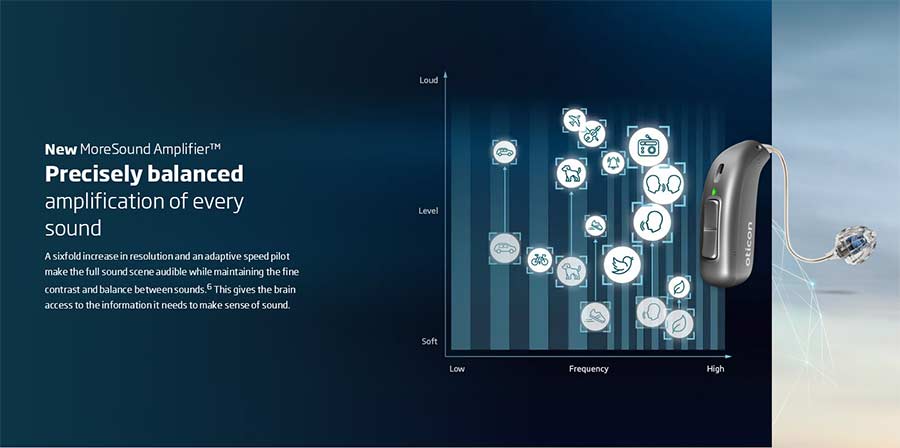 Sounds from the real world
Oticon More is trained with sound scenes from the real world and is thereby able to balance the sound scene around you. They say that they have trained this system with over 12 million real-life sound scenes so that it works better than anything before. It allows you to get more out of your conversations with friends and loved ones.
Oticon is calling this a quantum leap in sound scene processing. Their new system provides access to the complete sound scene, where individual sounds stand out in clear contrast to each other but won't affect your ability to hear speech.
We are looking forward to using these devices with our customers. As we said earlier, we have seen some fantastic results with Oticon hearing aids over the last few years. We expect the More to be no different.
If you have any questions about Oticon More hearing aids in Edinburgh, are looking for a hearing test, or are interested in ear wax removal, give us a call on 0131 629 1819 or contact us online now.

What Our Patients Say
Rated 5 out of /5 based on 3 customer reviews
Hearing Aids
Hearing aids supplied and fitted to patient's individual hearing loss
Extremely Professional
This practice and all staff within are extremely professional. Katie will put you at ease the minute you sit in the chair. I have used this practice on numerous occations and came away extremely satified with the treatment i received. If you suffering with ear wax problems try them!! I guarentee you won`t be disappointed. You never know, you may even get a cuddle from POPPY!!!!!
Gordon Tyers
Hearing Aids
Hearing aids supplied and fitted to patient's individual hearing loss
Comprehensive and Meticulous
I am an experienced hearing aid user who recently attended Edinburgh Hearing Aid Practice for assessment. The latter was the most comprehensive I have experienced to date. Audiologist Katie was meticulous in arriving at the best solution for me. She has a positive and sympathetic approach which is so important in this sensitive area.
Philip Michaelson
Hearing Aids
Hearing aids supplied and fitted to patient's individual hearing loss
Friendly and Professional
My appointment with Katie was informative, professional and relaxed. She immediately put me at ease regarding the procedure I was about to have and advised me on the best earplugs to protect my hearing whilst playing loud music. I cannot recommend Edinburgh Hearing Practice enough. Receiving a friendly welcome from reception and a professional consultation made the whole experience worthwhile.
Greg Sivills
Hearing Aids
Hearing aids supplied and fitted to patient's individual hearing loss