10th November 2021
Meet The ActiveVent Receiver System From Phonak
A Completely New System, But Who Are They Suitable For?
Earlier this year, Phonak introduced their new ActiveVent receivers. ActiveVent receivers are a unique innovation and represent a step forward in sound quality for streaming audio for people with high-frequency loss. They are designed to be both open fit and closed fit when needed. That may sound like technobabble to you, but it means that people with high-frequency loss can wear an open fit during their day to day activities, but still have the benefits of a closed fit when they are streaming audio. Let's talk about the receivers, who would benefit and what those pros and cons are.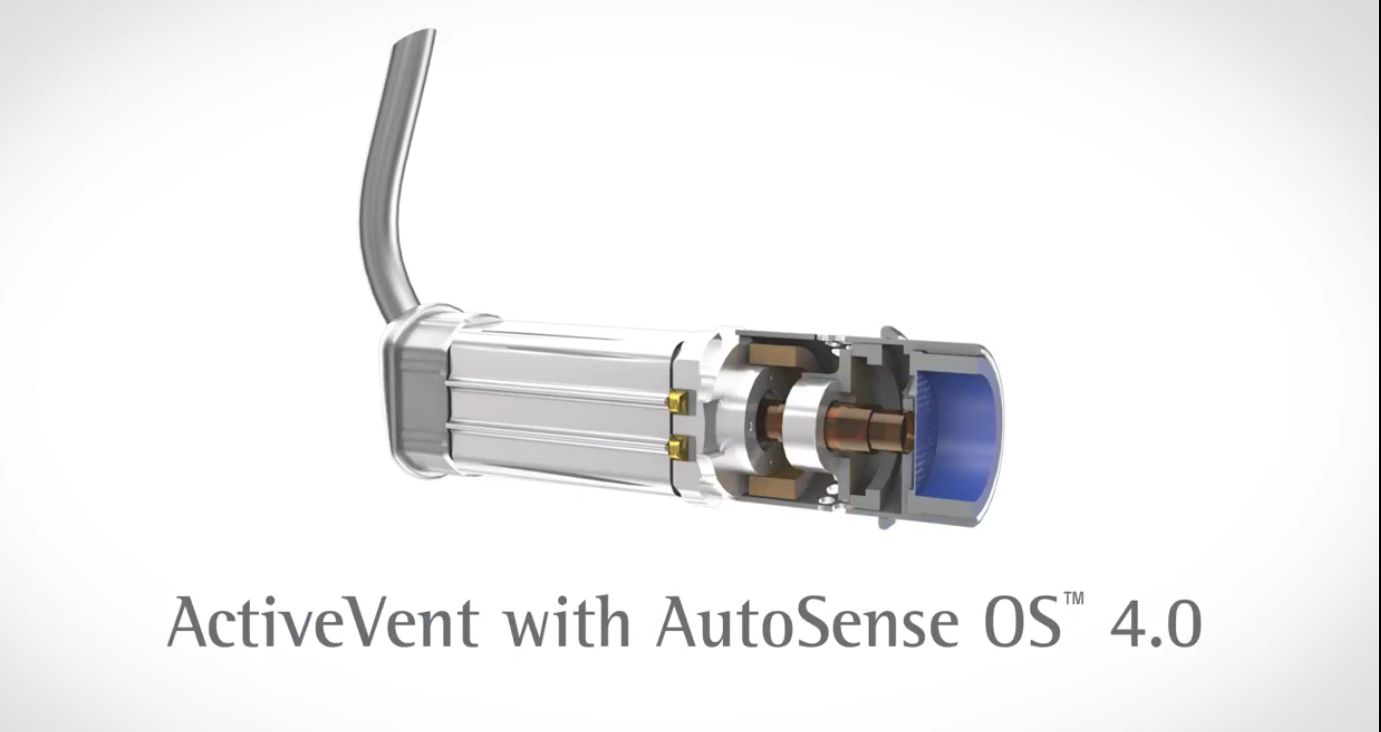 The ActiveVent is a new receiver-type that attaches to Phonak Audeo Paradise hearing aids. You can see the workings of the receiver in the picture above. The receiver has a mechanical vent system that will change from open to closed based on instructions from the attached hearing aid. That mechanical vent is the key to both the pros and cons I will discuss. The ActiveVent receiver has to be fitted with a custom tip made from titanium to give the perfect acoustic seal. The vent system remains open except when audio is being streamed to the aids by Bluetooth or when the user is in a noisy situation.
Who is ActiveVent suitable for
The most suitable hearing loss is someone with good low-frequency hearing with the loss in the high frequencies. High-frequency losses are the ideal parameters for ActiveVent. It is also important that the person doesn't suffer from sweaty ears or overproduction of earwax. Finally, if you fit those parameters, you also need to be able to take care of the receivers diligently. If you don't, they will fail.
Open and Closed Vents
What is the difference between open-fit or open vent and closed-fit or closed vent? With high-frequency losses, open-fit delivers comfort with a more natural sound, while closed-fit delivers the best efficacy but is unnatural and causes occlusion. This is something that professionals have to consider when a user has good low-frequency hearing.
The rule has always been, that the more closed a fit is, the better all of the features in the hearing aids work. On top of that, a closed fit also delivers the very best streaming audio experience. However, when we fit high-frequency hearing loss, it is a compromise between comfort and efficacy. ActiveVent tries to provide the best of both worlds, an open fit that converts to a closed fit in some situations.
An Audible Clunk
When the ActiveVent system closes, there is an audible clunk, it is quite audible and noticeable. It is unfortunately an unavoidable function of the system in action and nothing can be done about it. Initially, it could be a bit disconcerting, but in general, most people report that they simply got used to it.
While that is what we want the system to do when we stream audio via Bluetooth, it is also something of a concern. The issue here is that every time the Bluetooth on your phone grabs the connection to your hearing aids, the vent will close. That is fantastic when you are streaming audio or phone calls, but not when it is just a phone notification or even worse when you are idly scrolling through Facebook on your phone and coming across a video.
Solving The Issue
Solving the issue can be simple enough, make sure that most of your audio notifications are turned off. Keep the most important ones to minimise the number of times the ActiveVent system is activated.
To Summarise
The ActiveVent system offers people with good low frequency an excellent balance of open-fit for normal use and closed fit when they need it. Beware though, when they activate, there is a clear, audible clunk, which can be irritating if you don't take some action on phone notifications and video autoplay on your phone.
While there is a large wax guard on the tip of the receiver, it will need to be changed when it begins to accumulate wax and you will need to take care of the receivers. This is important, the ActiveVents are an added extra and you will pay extra for them. It should also be noted that Phonak only offers a six-month warranty on them.
If you have wet or quite waxy ears, these receivers aren't for you. Like all new technology, ActiveVent will only get better with time.
If you have any questions about hearing loss or hearing aids, are looking for a hearing test, or are interested in ear wax removal, give us a call on 0131 629 1819 or contact us online now.

What Our Patients Say
Rated 5 out of /5 based on 3 customer reviews
Hearing Aids
Hearing aids supplied and fitted to patient's individual hearing loss
Extremely Professional
This practice and all staff within are extremely professional. Katie will put you at ease the minute you sit in the chair. I have used this practice on numerous occations and came away extremely satified with the treatment i received. If you suffering with ear wax problems try them!! I guarentee you won`t be disappointed. You never know, you may even get a cuddle from POPPY!!!!!
Gordon Tyers
Hearing Aids
Hearing aids supplied and fitted to patient's individual hearing loss
Comprehensive and Meticulous
I am an experienced hearing aid user who recently attended Edinburgh Hearing Aid Practice for assessment. The latter was the most comprehensive I have experienced to date. Audiologist Katie was meticulous in arriving at the best solution for me. She has a positive and sympathetic approach which is so important in this sensitive area.
Philip Michaelson
Hearing Aids
Hearing aids supplied and fitted to patient's individual hearing loss
Friendly and Professional
My appointment with Katie was informative, professional and relaxed. She immediately put me at ease regarding the procedure I was about to have and advised me on the best earplugs to protect my hearing whilst playing loud music. I cannot recommend Edinburgh Hearing Practice enough. Receiving a friendly welcome from reception and a professional consultation made the whole experience worthwhile.
Greg Sivills
Hearing Aids
Hearing aids supplied and fitted to patient's individual hearing loss