31st March 2017
Meet The Very Latest CIC From Phonak
The Phonak Virto B-Titanium
The new Virto B-Titanium has been with us for a little while now and we have got to fit our first set. It really is an amazingly discreet hearing aid offering outstanding innovation. Let's talk about the the Titanium.
So, let's take a look at the hearing aid first, then we will tell you about our experience with it so far.
Phonak
Virto B-Titanium Invisible Hearing Aids
As we said, Phonak have just introduced this device across the world as part of a raft of introductions. Phonak announced that they were introducing a new Virto hearing aid type as part of their Virto Belong range. The Belong range is Phonak's latest platform.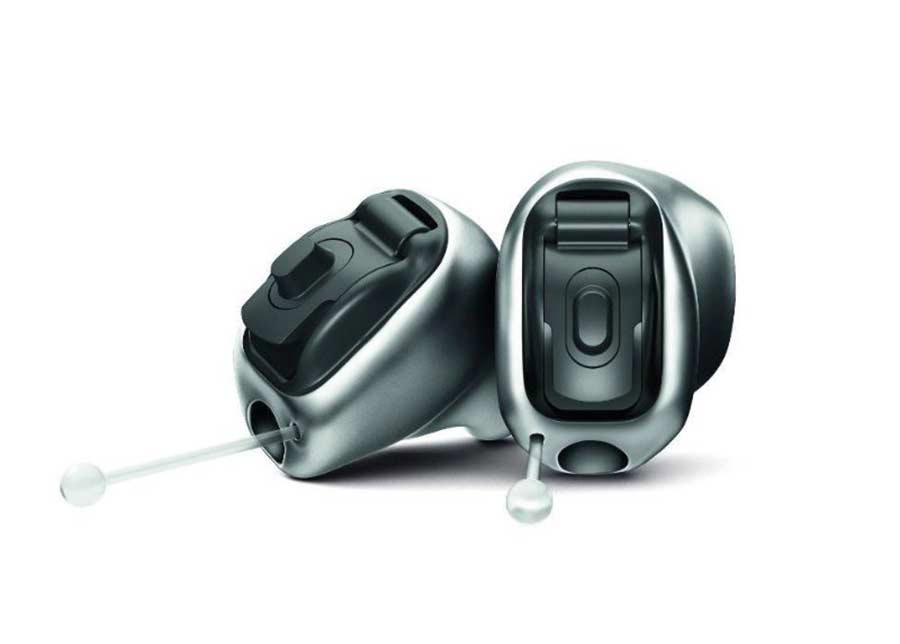 A Titanium Shell
They named the hearing aid as the Virto B-Titanium and said it will be the most discreet in ear device they have ever made. It is the first ever hearing aid to use titanium for the shell instead of the usual hard acrylic.
Will Fit More People Than Ever
The material is exceptionally strong, which allows Phonak to make the shell much thinner than ever before with even more strength. This combined with new component design allows them to deliver an invisible hearing device that they say will fit 68% more ears.
Who will the Virto Belong-Titanium be suitable for?
Phonak say that their new designs and materials will in fact make the hearing aids suitable for more people than ever. While that will most definitely be the case, there will still be some limitations on ability to fit. I would imagine if the bends in the ear canal are too tight, it will preclude this device from being suitable.
Other contra indications are the same as every other invisible hearing aid such as excessive waxy ear canals, history of mid ear infections or perforated eardrums. If you face these issues, this will not be the product for you. In these cases other discreet hearing aids may be more advisable to consider.
The device will offer three receiver levels which means that it will cover more hearing losses than ever before. The device will only be available in the V90 and V70 technology level.
We ordered in the device for one of our customers who was finally looking forward to a discreet hearing device thaat would cover their hearing loss. When the devices came they looked very nice, the titanium finish really looks good and they were very small.
They aids were fitted the next day and they sat quite deep in the canal and were completely invisible to the eye. In order to see the devices at all you would need to actually stare into the ear.
We were happy with the fit and the Patient was ecstatic, they really do fit exceptionally well. If you would like to see if the Virto B-Titanium is for you, call us on 0131 629 1819 or contact us online now.

What Our Patients Say
Rated 5 out of /5 based on 3 customer reviews
Hearing Aids
Hearing aids supplied and fitted to patient's individual hearing loss
Extremely Professional
This practice and all staff within are extremely professional. Katie will put you at ease the minute you sit in the chair. I have used this practice on numerous occations and came away extremely satified with the treatment i received. If you suffering with ear wax problems try them!! I guarentee you won`t be disappointed. You never know, you may even get a cuddle from POPPY!!!!!
Gordon Tyers
Hearing Aids
Hearing aids supplied and fitted to patient's individual hearing loss
Comprehensive and Meticulous
I am an experienced hearing aid user who recently attended Edinburgh Hearing Aid Practice for assessment. The latter was the most comprehensive I have experienced to date. Audiologist Katie was meticulous in arriving at the best solution for me. She has a positive and sympathetic approach which is so important in this sensitive area.
Philip Michaelson
Hearing Aids
Hearing aids supplied and fitted to patient's individual hearing loss
Friendly and Professional
My appointment with Katie was informative, professional and relaxed. She immediately put me at ease regarding the procedure I was about to have and advised me on the best earplugs to protect my hearing whilst playing loud music. I cannot recommend Edinburgh Hearing Practice enough. Receiving a friendly welcome from reception and a professional consultation made the whole experience worthwhile.
Greg Sivills
Hearing Aids
Hearing aids supplied and fitted to patient's individual hearing loss