26th February 2016
Phonak Roger Pen, What's The Benefit?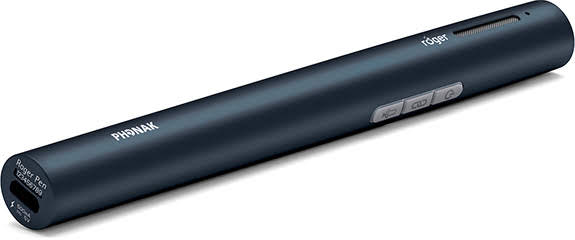 Phonak Wins If Design Award
Phonak, the global provider of the most complete product portfolio of hearing instruments and wireless communication solutions, today announced that its Roger Pen has been recognized for outstanding product design with the iF DESIGN AWARD, one of the most prestigious design competitions in the world.
The Roger Pen is an advanced wireless microphone for those affected by hearing loss. With its functional and inconspicuous design, it mimics a pen in shape and looks more like a stylish device than a medical instrument. The pen was selected to receive the coveted seal of design excellence in the category of Medicine/Healthcare by an international, high-profile jury of design professionals, press members and academics.
"We are delighted and greatly honored to receive the iF DESIGN AWARD recognition," said Drs. Hans Mulder, Marketing Director of Phonak Communications. "The award highlights our efforts to pair the highest standards in hearing performance, ease of use and innovation with outstanding design."
What Can The Roger Pen Do For You?
The Roger Pen from Phonak is a cutting-edge wireless microphone that assists people with hearing loss to hear and understand more speech in loud noise and over distance. The device can only be used with hearing aids, however, it is suitable for use with all hearing aids whether they are Phonak made or not.
The best wireless microphone
The Roger Pen is a fully automated solution and has been proven to perform better than any wireless microphone available in the hearing industry. It can be used as a standalone remote microphone or alongside other Roger Pens, Roger EasyPens or the Roger Clip-On Mic. It also features Bluetooth for cell phone calling, and can also be used to listen to TV and any multimedia source.
How is it used
The roger pen is a microphone and transmitter, it needs to be used with a Roger receiver. The Roger microphones are the Roger Pen and the Roger Clip-On Mic which can be used with three receiver choices. With Phonak products, you have the option of the integrated receivers at ear level, which attach on the very edge of the hearing instruments. It is, essentially, a new battery door.
That works for any Phonak BTE (Behind The Ear) product that has a size 13 or 675 battery. You cannot use an integrated ear-level receiver with a device that uses a 312 battery, a custom product, or with a non-Phonak hearing aid.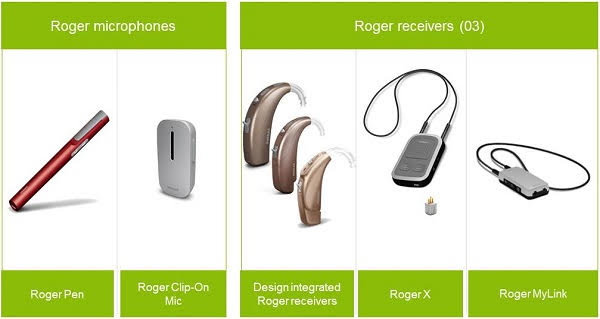 Roger X is the universal mini receiver which can be plugged into a Phonak ComPilot, which you see above the receiver for use with Phonak hearing aids. It can also be used with an audio shoe or audio boot that can be plugged into any other hearing aid manufacturers' device. The Roger X is also compatible with cochlear implants.
The third Roger receiver option is the universal Roger MyLink. This will work with any hearing aid with a T-coil or with a cochlear implant once it has a T-coil. Reports from the field say that the Roger x at or the ear level receivers are the best option for quality.
Why does it matter to you?
Hearing aids are expensive purchases and because of budget constraints sometimes a person can not purchase the level of technology they would like to. Devices like the Roger Pen in combination with a lower level of hearing aid technology can deliver exceptional results. In essence devices like the Roger Pen are a cheaper option and can help to deliver quality hearing in the situations you want.
If you have any questions about the Roger Pen, or you would like a hearing test, give us a call.
Speak To Us If You Are Looking For any information on hearing aids, hearing loss or Relief From Your Tinnitus in Edinburgh

What Our Patients Say
Rated 5 out of /5 based on over 40 customer reviews
Hearing Aids
Hearing aids supplied and fitted to patient's individual hearing loss
Extremely Professional
This practice and all staff within are extremely professional. Katie will put you at ease the minute you sit in the chair. I have used this practice on numerous occations and came away extremely satified with the treatment i received. If you suffering with ear wax problems try them!! I guarentee you won`t be disappointed. You never know, you may even get a cuddle from POPPY!!!!!
Gordon Tyers
Hearing Aids
Hearing aids supplied and fitted to patient's individual hearing loss
Comprehensive and Meticulous
I am an experienced hearing aid user who recently attended Edinburgh Hearing Aid Practice for assessment. The latter was the most comprehensive I have experienced to date. Audiologist Katie was meticulous in arriving at the best solution for me. She has a positive and sympathetic approach which is so important in this sensitive area.
Philip Michaelson
Hearing Aids
Hearing aids supplied and fitted to patient's individual hearing loss
Friendly and Professional
My appointment with Katie was informative, professional and relaxed. She immediately put me at ease regarding the procedure I was about to have and advised me on the best earplugs to protect my hearing whilst playing loud music. I cannot recommend Edinburgh Hearing Practice enough. Receiving a friendly welcome from reception and a professional consultation made the whole experience worthwhile.
Greg Sivills
Hearing Aids
Hearing aids supplied and fitted to patient's individual hearing loss