5th October 2021
Sudden Hearing Loss Could be Serious, Get Help Immediately
It might be earwax, but it could be a hearing loss that could end up permanent
People suffer from a perceived sudden hearing loss sometimes and usually put it down to earwax. More often than not, they are probably right. However, in an increasing number of cases, they are very wrong. Sudden Sensorineural Hearing Loss (SSHL) is a rare condition that seems to be on the increase. The thing is not all sudden hearing losses are necessarily a really bad sign, the problem is that it could be, so therefore you should treat it as such.
We had a lady attend our Aucterarder hearing care practice recently reporting that she felt a large change in her hearing in her left ear which occurred suddenly. The hearing loss was accompanied by a feeling of fullness in the ear and tinnitus.
Upon inspection, we found her ears to be free of ear wax, we then immediately began an assessment of her hearing which showed a unilateral hearing loss to the left ear which was worse in the lower frequencies which you can see below.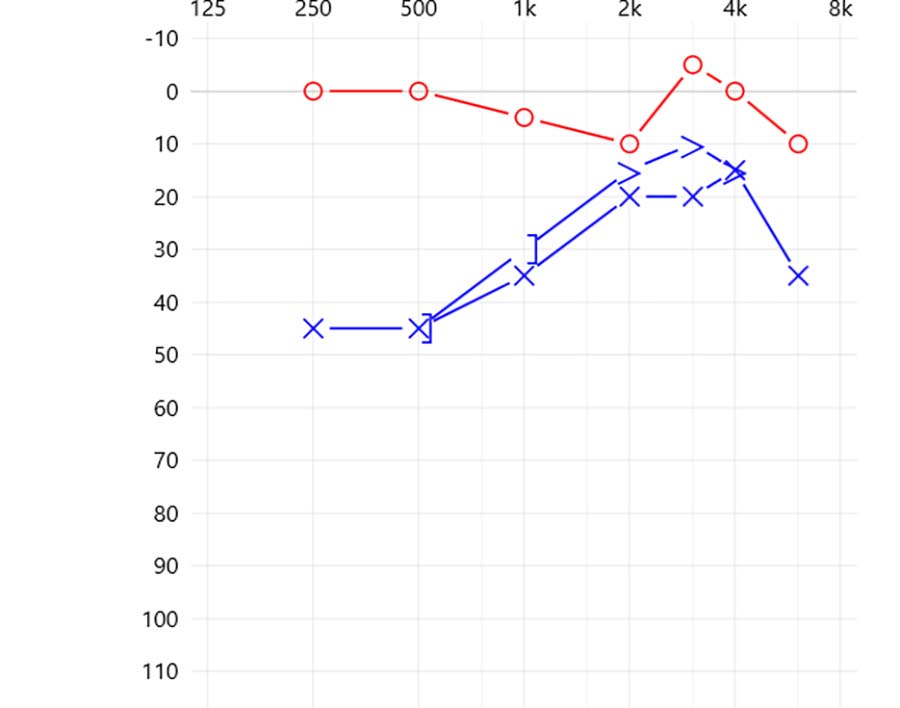 The loss was confirmed to be sensorineural (inner ear) and fit the definition of SSHL, we realised that the lady needed an immediate referral for further investigation and treatment. We wrote a referral report and she immediately attended her GP with it in hand.
We received this message a couple of days ago:
Dear Graham,
Thank you for your excellent assessment of my sudden onset unilateral hearing loss yesterday and for liaising with my GP. I am pleased to say that the GP was also excellent and spoke to the Ninewells ENT consultant who recommended prednisolone 50mg od for 7 days and he is arranging a follow-up appointment in 2 weeks.
Today my hearing is very much improved and the sensation of fullness, as well as the tinnitus, disappeared overnight. Without the prompt attention of you all at the Auchterarder Hearing Clinic, I may have sustained permanent hearing loss.
With many thanks
Jane
We are very happy that this lead to a happy ending for Jane, but if she had not looked for immediate attention it may have turned out much worse. The thing is, with immediate treatment, more often than not SSHL resolves itself. But the chances of recovery are shortened dramatically each day that treatment is delayed.
If you have any questions about hearing loss or hearing aids, are looking for a hearing test, or are interested in ear wax removal, give us a call on 0131 629 1819 or contact us online now.

What Our Patients Say
Rated 5 out of /5 based on 3 customer reviews
Hearing Aids
Hearing aids supplied and fitted to patient's individual hearing loss
Extremely Professional
This practice and all staff within are extremely professional. Katie will put you at ease the minute you sit in the chair. I have used this practice on numerous occations and came away extremely satified with the treatment i received. If you suffering with ear wax problems try them!! I guarentee you won`t be disappointed. You never know, you may even get a cuddle from POPPY!!!!!
Gordon Tyers
Hearing Aids
Hearing aids supplied and fitted to patient's individual hearing loss
Comprehensive and Meticulous
I am an experienced hearing aid user who recently attended Edinburgh Hearing Aid Practice for assessment. The latter was the most comprehensive I have experienced to date. Audiologist Katie was meticulous in arriving at the best solution for me. She has a positive and sympathetic approach which is so important in this sensitive area.
Philip Michaelson
Hearing Aids
Hearing aids supplied and fitted to patient's individual hearing loss
Friendly and Professional
My appointment with Katie was informative, professional and relaxed. She immediately put me at ease regarding the procedure I was about to have and advised me on the best earplugs to protect my hearing whilst playing loud music. I cannot recommend Edinburgh Hearing Practice enough. Receiving a friendly welcome from reception and a professional consultation made the whole experience worthwhile.
Greg Sivills
Hearing Aids
Hearing aids supplied and fitted to patient's individual hearing loss