26th September 2015
Managing Your Tinnitus With Help From an App
The Tinnitus Balance App From Phonak
There is more and more focus on tinnitus as a condition in the last several years. It almost seems that every month there is some new product focused on giving relief from the sound of tinnitus. Recently Phonak released a free tinnitus management smart phone App for their hearing aid users. The app is available on both Apple's App Store and Google Play free to download and is designed to help people control their tinnitus.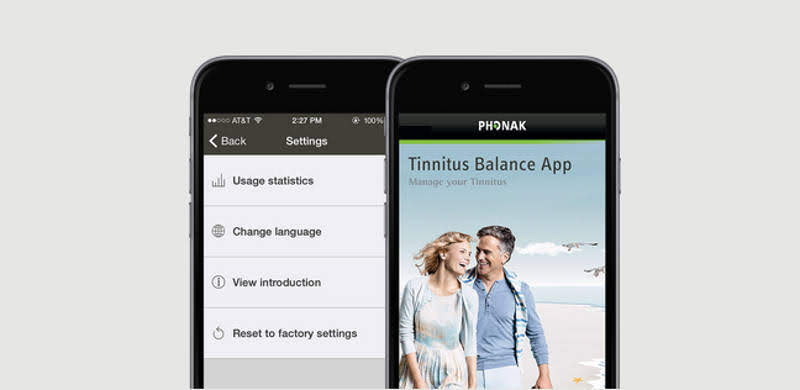 The app called the "Tinnitus Balance App" is not a stand alone strategy, it is designed to be part of a combined approach to the management of your tinnitus. Not all people struggle with their tinnitus, but for those who do apps like this can really help. Millions of people across the world suffer with tinnitus, for many it is not a big issue. However, for some it is a difficult and debilitating condition. The negative effects of tinnitus can be felt across their general well being and the enjoyment of their life.
Providing relief for your tinnitus
Any strategy that actually helps give relief from the sounds of tinnitus is welcome. The idea is to provide relief to you from the sound of your tinnitus. if we are successful with this you can begin to focus on getting on with your life. At Edinburgh Hearing Practice we use a combined strategy to try and help with tinnitus. One element of this strategy is sound therapy, an app like the new one from Phonak helps with this strategy. It also allows you to take an active part in management of your tinnitus. It gives you back your control!
Take control of your tinnitus
Sound therapy is a well documented and effective approach to managing tinnitus. It has been proven to reduce the perceived level of the sounds of tinnitus. The Tinnitus Balance App helps you to take control of your sound therapy in a deeper way with real ease. The app contains a list of default sounds that you can use to help with your tinnitus that are divided into three categories:
soothing

background

interesting
The app also allows you to select your own custom sounds that are saved in your mobile phone's music library. In this way you can access your sound therapy when you want, alter it to how you want it and be an active part of your ongoing tinnitus therapy. It simply means that you can take control of your treatment.
Collaboration in your tinnitus therapy
The app also allows you to collaborate in a deeper way with us in the management of your tinnitus. You can rate how well each sound provides relief or distraction from your tinnitus in the app and share this information with us. This is an easy and simple to use element that helps deliver a collaborative approach to tinnitus therapy.
Again, we think it is all about giving you control, putting you in the driving seat. this type of control and collaboration makes you an active participant. for people with tinnitus who often feel robbed of their control, that can only be a good thing. If you have any questions about tinnitus, or if you are looking for tinnitus therapy that delivers results, call us on 0131 629 1819 or book your appointment online now.
Speak To Us If You Are Looking For Relief From Your Tinnitus in Edinburgh

What Our Patients Say
Rated 5 out of /5 based on over 40 customer reviews
Hearing Aids
Hearing aids supplied and fitted to patient's individual hearing loss
Extremely Professional
This practice and all staff within are extremely professional. Katie will put you at ease the minute you sit in the chair. I have used this practice on numerous occations and came away extremely satified with the treatment i received. If you suffering with ear wax problems try them!! I guarentee you won`t be disappointed. You never know, you may even get a cuddle from POPPY!!!!!
Gordon Tyers
Hearing Aids
Hearing aids supplied and fitted to patient's individual hearing loss
Comprehensive and Meticulous
I am an experienced hearing aid user who recently attended Edinburgh Hearing Aid Practice for assessment. The latter was the most comprehensive I have experienced to date. Audiologist Katie was meticulous in arriving at the best solution for me. She has a positive and sympathetic approach which is so important in this sensitive area.
Philip Michaelson
Hearing Aids
Hearing aids supplied and fitted to patient's individual hearing loss
Friendly and Professional
My appointment with Katie was informative, professional and relaxed. She immediately put me at ease regarding the procedure I was about to have and advised me on the best earplugs to protect my hearing whilst playing loud music. I cannot recommend Edinburgh Hearing Practice enough. Receiving a friendly welcome from reception and a professional consultation made the whole experience worthwhile.
Greg Sivills
Hearing Aids
Hearing aids supplied and fitted to patient's individual hearing loss