Widex Hearing Aids Edinburgh, Auchterarder
& Gullane
A company famous for amazingly natural sound quality and innovation
If you are looking for fantastic sound quality, astonishing reliability and the most natural hearing available, then Widex may be the devices for you
Outstanding Devices, Outstanding Sound

Outstanding Connectivity
Evoke Hearing Aids
The Evoke is the newest top of the range hearing aids from Widex. The Evoke platform or E-Platform is the first-ever range of hearing aids with machine learning capabilities. Although, the machine learning feature is only available on The Evoke Fusion 2 which is a direct connection or Made For iPhone hearing aid. In essence, it is one of the latest Bluetooth enabled hearing aids just like the Widex Beyond before it. Widex says that the Evoke begins the era of intelligent hearing, where the quality of your listening experience will evolve in real-time and real life. With machine learning-enabled, the Evoke range will continue to learn from you (and millions of others) as you use them so that you will hear sound perfectly.
The Evoke hearing aids evolve in real life to keep getting smarter.
Widex new SoundSense Technology means that every time you use EVOKE hearing aids, they evolve in their function. That's why they call them the world's first smart hearing aid. That's because when you (and others across the world) personalise your listening experience, EVOKE learns from different situations and your inputs. Widex uses anonymous data from your changes to create a better listening experience for everyone. That means that the hearing aids you buy will be better tomorrow than they were today.

Machine Learning Hearing Aids
The Evoke range is the very first range of hearing aids to take advantage of machine learning. As more and more people use the system, powerful machine learning systems will crunch the data to understand what changes are best for differing sound situations. As the system works, the findings will be used for new settings on the Evoke range that are automatically pushed out as new firmware updates. In this way, your input with the Evoke app will mean that your hearing aids will perform better as time goes on.
Two New Sound Classes and Two New Programmes
Widex introduced sound classes with the Unique hearing aid platform, with the Evoke they have added new Social and Music sound classes in response to what they have learned about the changing needs of hearing aid users. The new Social sound class bridges the gap between their Party and Quiet classes. It is designed to give the best sound in smaller social gatherings.
They have been very clever with the new music sound class, it changes to accommodate different styles of music: Contemporary and Classical. The Evoke also includes two new programs, an Impact program for listening in challenging situations, and they have re-introduced their dedicated Comfort program which they removed on the Unique.
Widex Evoke Features
Wind Noise Attenuation: Only available on the 440 level
High-Frequency Boost: Only available on the 440 level
Wind noise control
Sound class technology: Up to 11 interear automatic situations
High Pitch Boost: A high-frequency boost for frequencies above 4000 Hz in the new hearing aids are designed to provide extra audibility while ensuring subjective comfort.
Sound Sense Machine Learning: This hearing aid employs machine learning to bring a higher degree of computer-aided intelligence to decision making.
SoundSense Adapt: Adaptive learning to gradually remember the wearers preferred settings across multiple parameters for each sound class environment, resulting in better sound.
Processing channels: 15 channels
Direct Stereo Audio Streaming: Direct audio streaming from an iPhone (Fusion 2 model only)
Listening programs: 5 programmes max
High Definition Locator (Automatic Adaptive Directionality): in 15 channels
Speech Enhancer: Real time interear
Digital Pinna: Available on 440 models
Phone+: Available on the 440
TruSound Softener: Available on 440
Preference Control: Available on all levels
Reverse focus program: Available on 440
FreeFocus (via COM-DEX app): Available on 440
Multi-directional Active Feedback Cancelling: Interear
Zen/Zen+: Available on 440
Variable Speed Compression: Available on 440
True-Input Technology: Available on all levels
Soft Level Noise Reduction: Available on all levels
Audibility Extender: Available on all levels
Hammer Detector: Available on all levels
SmartSpeak/SmartTone: Available on all levels
Evoke Hearing Aid Types & Sizes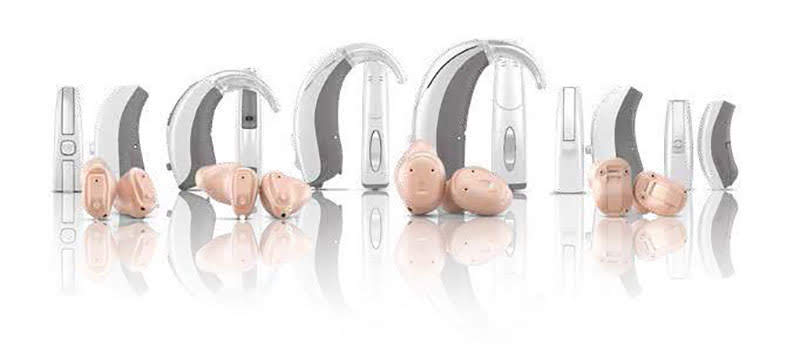 There are several sizes of behind the ear model and three in the ear models available. The Passion is the slim, attractive behind the ear receiver-in-canal model and is suitable for most hearing losses. It has no manual controls so can only be adjusted by remote control or app.
The Fusion is the larger, more powerful behind the ear model which also features a push-button for program changing. The Fusion 2 is the Made For iPhone hearing aid model which will give you access to the machine learning feature. The Fashion comes in three types, the Fashion mini which is a discrete mini-BTE, the Fashion, which covers hearing loss down to severe and the Fashion Power which covers hearing losses down to severe to profound.
Of the three in the ear models, one is the standard sized in-the-ear, one is the CIC or completely-in-the-canal. The smallest is the CIC-M which is Widex's equivalent of an IIC or invisible-in-the-canal. Being so small, some features had to be cut from this model, mainly anything requiring wireless communication which this aid cannot fit in.
Looking For Widex Hearing Aids in Edinburgh, Auchterarder or Gullane?
We Know We Can Help
Contact Us
Widex Beyond Hearing Aids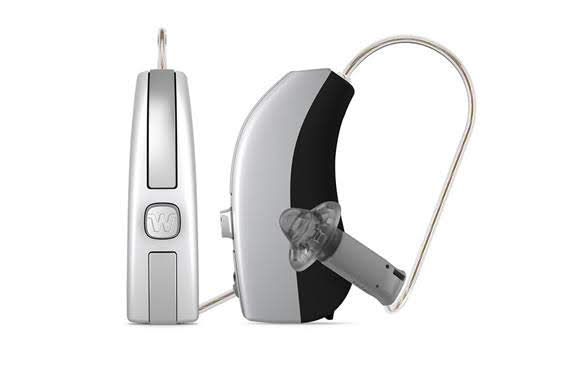 The Beyond is the very latest addition to the Widex Line up, it is also their first ever Made For iPhone hearing aid. It is a slightly changed Fusion device based on the Unique technology, and it has three different radios onboard, the one for Widex Link, a telecoil and the new radio for direct iPhone connection making it possible to stream music and conduct phone calls directly to the hearing aid without any intermediary device. Widex Products are famous for their sound quality, now it appears that sound quality extends to the best sound Made for iPhone.
The Beyond App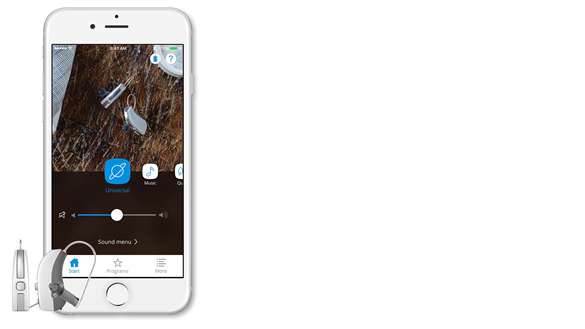 User Fine Tuning?
The Beyond app seems to have the usual features that are available with Made For iPhone devices genearally, you can set geo locations for different sound programmes and make changes to how the hearing aids are working on the go. However, there also seems to be an element of self fine tuning on the app, whereby users can actually change the frequency response of the hearing aids. They are calling this feature the Preference Control and it seems to break down frequencies into three bands, Bass, Middle and Treble. It is interesting to see manufacturers begin to hand over this type of control to users. It means that you can have some control over how the hearing aid actually works as you change the settings.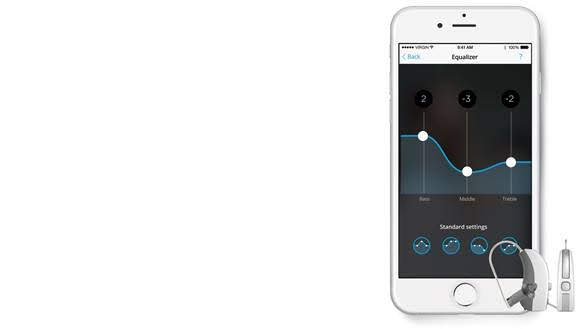 While Widex have now introduced a 2.4ghz BlueTooth radio to the Beyond for the connection to the smartphone, it has retained both the WidexLink and a telecoil on the hearing devices.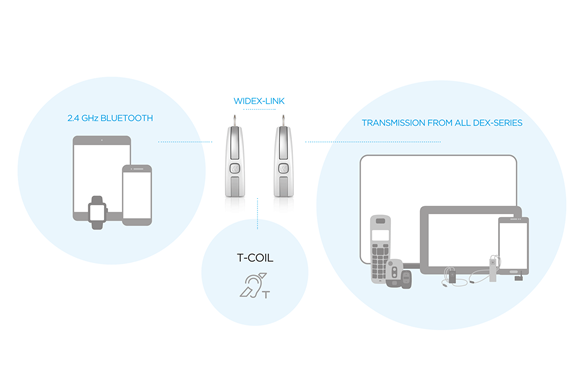 Widex Link
Retaining the Widex Link makes sense for several reasons. The first being, that it is still without doubt, the single best system available for streaming high quality audio. The second is that it will mean that any Widex users who upgrade their devices to the Beyond will still be able to use their Dex accessories. Retaining a T-Coil also makes some sense, the T-Coil system is making a huge resurgence in the United States and many in the UK and Ireland are used to using the T-Coil in public places.
The Beyond at present appears to be only a Fusion type hearing aid, however, it will be interesting to see how and if Widex expand the range. The Beyond is available in a 440, 330, 220 and 110 version in line with their usual technology level offers.
New Beyond Rechargeable Hearing Aids
A new rechargeable version of the Beyond is to be introduced next year. The aids are based on the really fantastic rechargeable system from ZPower that many of the hearing aid brands are going for. The system delivers a full day of power and you can change out the battery for a normal battery if you forget to charge.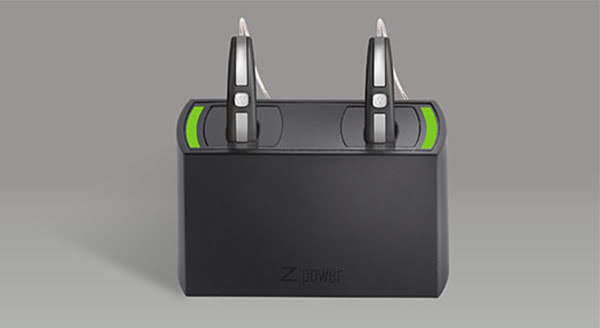 Super Hearing Aids
The power to hear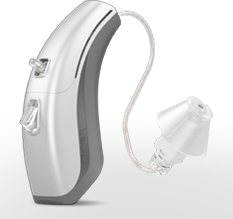 Small, comfortable and versatile - WIDEX SUPER introduces RITE technology to the super power segment for the first time.
has the power to provide loudness
has the gain for speech understanding
has no feedback/doesn't whistle
has a long battery life
is made for all day, everyday use
has a robust and stylish design
gives you the choice of two receivers, for either moderate to severe or severe to profound hearing loss, plus various ear-tips and earmoulds. This versatile model is packed with InterEar features for better localisation.
The SUPER family
SUPER440
The high-end SUPER440 hearing aid comes with a full range of advanced features that let you localise and focus on the dominant voice in a crowd. SUPER440 also comes with Zen, the revolutionary tone and relaxation program that plays random and harmonic tones in stereo to help you relax or manage tinnitus.
SUPER440 gives you the power to hear more, it provides you with better orientation of sound, it can be used all day in all kinds of weather and yet it is a very small and smart looking RITE solution.
SUPER220
The SUPER220 hearing aid is a powerful wireless hearing aid at an affordable price.
A small, weather-resistant and stylish hearing aid that provides the advantages of comfort and clarity while giving you the power to hear. Furthermore the clever design reduces wind noise by up to 18 dB. SUPER220 features the Audibility Extender, which helps hearing aid users to better hear high frequency sounds such as birdsong and children's voices.
Rated 5 out of /5 based on over 40 customer reviews
Hearing Aids
Hearing aids supplied and fitted to patient's individual hearing loss
"Thank you so much for restoring my hearing, I only wish I had come to you first! Amazing service, you really care and went over and above to fix the issue. Highly recommended and I will definitely come to you first next time!"

Fiona McGowan

Hearing Aids

Hearing aids supplied and fitted to patient's individual hearing loss

"I am an experienced hearing aid user who recently attended Edinburgh Hearing Aid Practice for assessment. The latter was the most comprehensive I have experienced to date. Audiologist Katie was meticulous in arriving at the best solution for me. She has a positive and sympathetic approach which is so important in this sensitive area."

Phillip Michaelson

Hearing Aids

Hearing aids supplied and fitted to patient's individual hearing loss

"after reading which consumer report they recommended independents and I chose Edinburgh hearing practice and I'm glad I did. Katie and Martin are excellent in checking your hearing and advising on the best aid suited to you. After sales service is second to none and I have no hesitation in recommending them."

Robert Crombie

Hearing Aids

Hearing aids supplied and fitted to patient's individual hearing loss