20th December 2021
Widex Introduce Their First Rechargeable BTE to Moment Range
Rechargeable Behind The Ear offers a Moment solution to more people than ever
Widex announced its first-ever rechargeable behind-the-ear (BTE) hearing aid offering PureSound™, LED indicator, telecoil, and direct streaming to iPhone and Android. With the new Widex MOMENT BTE R D, patients with hearing loss from minimal up to severe-to-profound can now benefit from Widex's unique natural sound processing.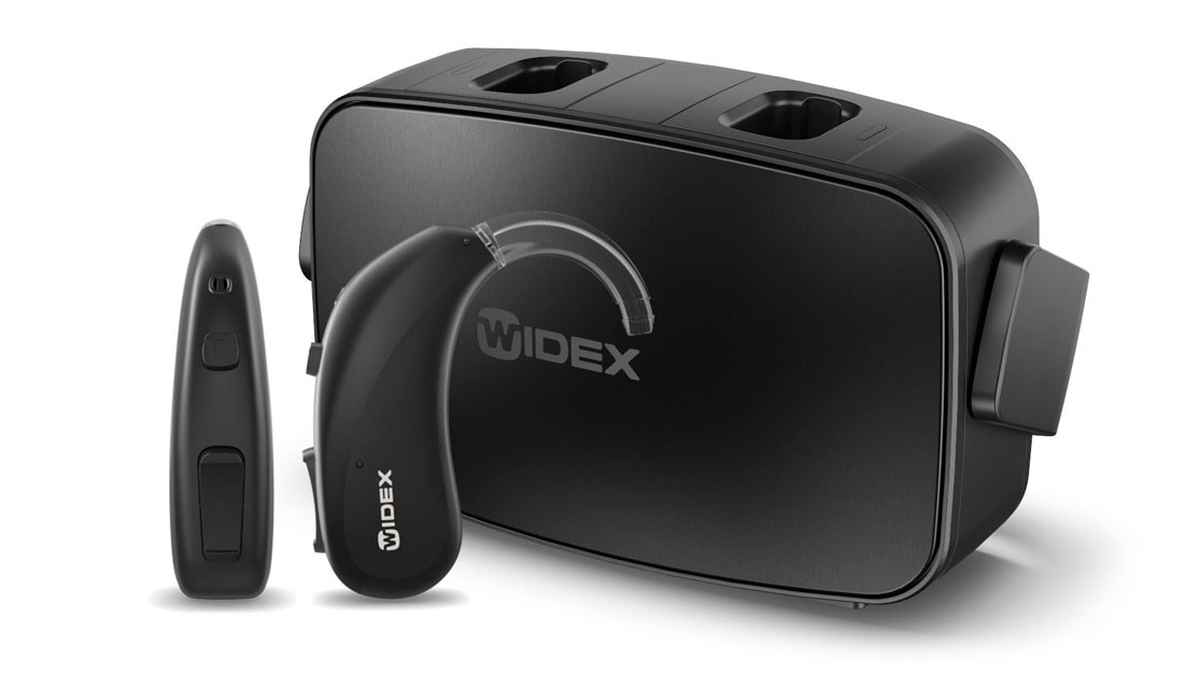 Made For Android, Made For iPhone
As with many other devices in the Moment range, the new rechargeable BTE hearing aid is fully compatible with the Android Audio Streaming for Hearing Aids (ASHA) standard, which allows wearers to stream music and calls directly to their hearing aids without requiring a separate accessory. It also supports direct wireless connections to iPhones, Widex TV Play, and WidexLink devices.
Massive Battery Life
Developed to meet the needs of even the most demanding hearing aid wearers, the MOMENT BTE R D runs for up to 37 hours on a single charge and 24 hours total when used for roughly 8 hours of streaming. That's pretty outstanding and should offer more than enough battery life for those who spend much of their day streaming.
Traditional Ear Hook or Thin Tubes
The MOMENT BTE R D has the option of using a standard ear hook for an earmould earpiece, or two types of thin tubes for silicone domes or custom tips offering a better fit regardless of ear size and shape. Either can be used to take full advantage of PureSound with ZeroDelay™ processing, which eliminates delay-based distortion in MOMENT hearing aids and improves sound perception.
The hearing aids come standard with telecoil and feature a new programmable LED indicator and, unique to this model, a separate preference control switch to help patients use their hearing aids more easily. Your professional can enable the LED indicator to flash different colours and patterns to communicate the aid status to the wearer, such as on/off, low battery, or a successful Bluetooth connection or accessory pairing.
It makes it easier to understand the status of the hearing aids through a visual indicator. The devices will be available in a range of colours, similar to other Widex MOMENT hearing aids. It comes with a standard charger and will soon be available with the Widex Charge n Clean charger, featuring a UV-C LED treatment to eliminate bacteria and viruses and temperature stabilization to ensure optimal battery performance.
If you have any questions about hearing loss or hearing aids, are looking for a hearing test, or are interested in ear wax removal, give us a call on 0131 629 1819 or contact us online now.

What Our Patients Say
Rated 5 out of /5 based on 3 customer reviews
Hearing Aids
Hearing aids supplied and fitted to patient's individual hearing loss
Extremely Professional
This practice and all staff within are extremely professional. Katie will put you at ease the minute you sit in the chair. I have used this practice on numerous occations and came away extremely satified with the treatment i received. If you suffering with ear wax problems try them!! I guarentee you won`t be disappointed. You never know, you may even get a cuddle from POPPY!!!!!
Gordon Tyers
Hearing Aids
Hearing aids supplied and fitted to patient's individual hearing loss
Comprehensive and Meticulous
I am an experienced hearing aid user who recently attended Edinburgh Hearing Aid Practice for assessment. The latter was the most comprehensive I have experienced to date. Audiologist Katie was meticulous in arriving at the best solution for me. She has a positive and sympathetic approach which is so important in this sensitive area.
Philip Michaelson
Hearing Aids
Hearing aids supplied and fitted to patient's individual hearing loss
Friendly and Professional
My appointment with Katie was informative, professional and relaxed. She immediately put me at ease regarding the procedure I was about to have and advised me on the best earplugs to protect my hearing whilst playing loud music. I cannot recommend Edinburgh Hearing Practice enough. Receiving a friendly welcome from reception and a professional consultation made the whole experience worthwhile.
Greg Sivills
Hearing Aids
Hearing aids supplied and fitted to patient's individual hearing loss