23rd March 2015
The New Autosense Feature in Phonak Hearing Aids
So what can Autosense do?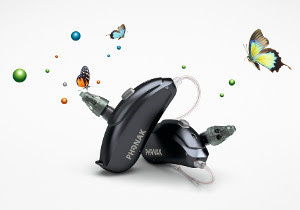 Running on the new operating system, AutoSense OS recognises and automatically adapts to more of your listening situations than ever before. AutoSense is a mixture of new features, enhanced features and existing features. AutoSense OS accurately captures and analyzes the sound environment and then precisely blends the feature elements from multiple programs in real time to provide a seamless listening experience.
Delivering you real clarity of sound automatically

With AutoSense OS, they have introduced both new and enhanced automated programs:
New Features
Speech in Car
Reduces broadband noise in the car to create a stable listening environment for easy communication and reduced effort.
Comfort in Echo
Recognizes the frequency of any reverberation and applies the appropriate amount of gain reduction, resulting in less distortion, making speech more comfortable.
Music
Offers an expanded dynamic range, slow compression speed and more gain for a fuller and richer music listening experience.
Enhanced Features
Speech in Loud Noise
Zooms in on a single voice in a diffuse noisy environment, improving speech intelligibility. The program's key feature, auto StereoZoom, now adapts to moving and asymmetric noise sources, improving speech intelligibility by up to 60%.4
Existing Features
Speech in Noise
Adapts and reduces noise from behind in real time and optimizes the Signal-to-Noise Ratio (SNR) in noisy environments.
Comfort in Noise
Actively reduces noise for increased comfort when no speech is present.
Calm
Provides optimal gain for speech understanding and listening comfort when engaging in one-on-one conversations in quiet environments.
The new AutoSense feature will make a dramatic difference to your ability to hear better in every situation. it is a great addition to a superb product and we are looking forward to seeing it in more and more of the hearing aids we supply in Edinburgh. You can take a look at all of the latest digital hearing aids from Phonak here. You can also take a look at the top hearing aid manufacturers here.
Interested in The Best In Hearing Aid Technology in Edinburgh ?

What Our Patients Say
Rated 5 out of /5 based on over 40 customer reviews
Hearing Aids
Hearing aids supplied and fitted to patient's individual hearing loss
Extremely Professional
This practice and all staff within are extremely professional. Katie will put you at ease the minute you sit in the chair. I have used this practice on numerous occations and came away extremely satified with the treatment i received. If you suffering with ear wax problems try them!! I guarentee you won`t be disappointed. You never know, you may even get a cuddle from POPPY!!!!!
Gordon Tyers
Hearing Aids
Hearing aids supplied and fitted to patient's individual hearing loss
Comprehensive and Meticulous
I am an experienced hearing aid user who recently attended Edinburgh Hearing Aid Practice for assessment. The latter was the most comprehensive I have experienced to date. Audiologist Katie was meticulous in arriving at the best solution for me. She has a positive and sympathetic approach which is so important in this sensitive area.
Philip Michaelson
Hearing Aids
Hearing aids supplied and fitted to patient's individual hearing loss
Friendly and Professional
My appointment with Katie was informative, professional and relaxed. She immediately put me at ease regarding the procedure I was about to have and advised me on the best earplugs to protect my hearing whilst playing loud music. I cannot recommend Edinburgh Hearing Practice enough. Receiving a friendly welcome from reception and a professional consultation made the whole experience worthwhile.
Greg Sivills
Hearing Aids
Hearing aids supplied and fitted to patient's individual hearing loss