19th October 2015
New Phonak Custom Hearing Aids in Edinburgh
Phonak Announces New Custom Hearing Aids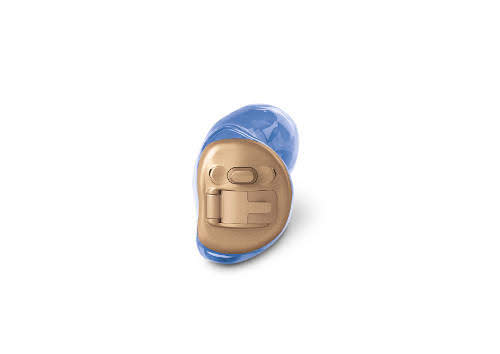 Phonak has announced the launch of its new custom Virto V range of hearing aids. The introduction of the Virto V completes their new Venture platform of hearing aids. The Virto V is based on their powerful Venture platform with Autosense OS which was introduced not too long ago. They presented the new custom hearing solutions to the European market at the EUHA congress 2015 in Nuremberg, Germany.
Key innovations of the Virto V range include:
15% and 33% better speech understanding in noise compared to leading competitor products

Full Venture performance with a 25% smaller surface thanks to new technologies in the hearing aids

Innovative design and placement featuring a faceplate with nano-coated battery doors, volume control and a push button, resulting in 20% better usability and versatility for users

Up to 30% less battery consumption compared to previous hearing aid generation.
Other Phonak Virto V feature highlights include:·
Binaural VoiceStream TechnologyTM: streams the full audio bandwidth between the two hearing aids in real time

Wireless Functionality: allows for an extra boost in challenging listening situations and connects Virto V with the comprehensive Phonak Wireless Communication Portfolio all the way down to a CIC form factor

Acoustically Optimized Venting, this uses sophisticated algorithms to define the acoustic mass, model and vent to provide the maximum hearing comfort and performance for the user

Tinnitus Balance noise generator: Phonak Virto V is the first Phonak custom product to offer a tinnitus relief and management feature
There is no other hearing aid this small, capable of this much performance
A bold claim made by their Group Vice President Martin Grieder, he went on to say "We are very sensitive to the needs of those seeking a discreet yet powerful hearing solution. The new Phonak Virto V offers an even clearer and more natural sound quality than the previous generation of custom hearing aids. There is no other hearing aid this small that is capable of this much performance."
Audibly big, visibly small
"Phonak Virto V is a very big improvement in technology and in aesthetics. It's also very comfortable," said Bill Shull, a participant in the product validation study. "I don't miss having to think about my hearing environment. My Virto V's very effectively pick up where I am and what I need - and work seamlessly."
A new smart solution for single-sided deafness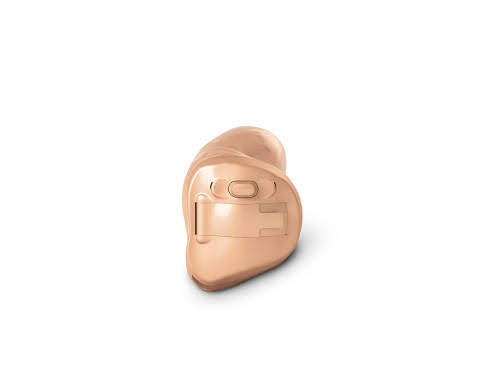 Phonak also introduced their new CROS II Custom, the only custom solution for single-sided deafness. CROS systems are ideal solutions for people with single sided hearing loss. For the first time people with single sided deafness will have a custom hearing aid option from Phonak.
From the good ear to the bad ear
The system works by wirelessly transmitting sound from the unaidable ear to a wireless custom Venture hearing aid worn on the better hearing ear. The system allows people with single-sided deafness to hear speech from the side they could not hear from before. The CROS II system is also based on the groundbreaking Venture platform. Because a CROS system works by streaming audio from one side to the other, battery consumption has always been an issue. However, they have introduced steps to meet that problem.
Longer Life Less Battery Consumption
The CROS II custom consumes up to 30% less battery than the previous CROS generation and delivers 40% better speech understanding in noise. Phonak CROS II Custom is compatible with all wireless Phonak Virto V hearing aids with Binaural VoiceStream Technology™.
The new Phonak Virto V and Phonak CROS II Custom will be available with immediate effect from Edinburgh Hearing Practice, so if you are interested in the very latest custom hearing aids in Edinburgh, why don't you give us a call. You can keep up to date with the latest hearing devices from Phonak here. You can also take a look at all of the top hearing aid companies here.
So if you would like to try the latest hearing aids in Edinburgh, call us on 0131 629 1819 or book your appointment online now!

What Our Patients Say
Rated 5 out of /5 based on over 40 customer reviews
Hearing Aids
Hearing aids supplied and fitted to patient's individual hearing loss
Extremely Professional
This practice and all staff within are extremely professional. Katie will put you at ease the minute you sit in the chair. I have used this practice on numerous occations and came away extremely satified with the treatment i received. If you suffering with ear wax problems try them!! I guarentee you won`t be disappointed. You never know, you may even get a cuddle from POPPY!!!!!
Gordon Tyers
Hearing Aids
Hearing aids supplied and fitted to patient's individual hearing loss
Comprehensive and Meticulous
I am an experienced hearing aid user who recently attended Edinburgh Hearing Aid Practice for assessment. The latter was the most comprehensive I have experienced to date. Audiologist Katie was meticulous in arriving at the best solution for me. She has a positive and sympathetic approach which is so important in this sensitive area.
Philip Michaelson
Hearing Aids
Hearing aids supplied and fitted to patient's individual hearing loss
Friendly and Professional
My appointment with Katie was informative, professional and relaxed. She immediately put me at ease regarding the procedure I was about to have and advised me on the best earplugs to protect my hearing whilst playing loud music. I cannot recommend Edinburgh Hearing Practice enough. Receiving a friendly welcome from reception and a professional consultation made the whole experience worthwhile.
Greg Sivills
Hearing Aids
Hearing aids supplied and fitted to patient's individual hearing loss