24th April 2016
Phonak Naida V Hearing Aids Launched
Phonak
Naida Venture Hearing Aids
Phonak is renowned for hearing device solutions for severe to profound hearing loss. Their latest addition, the Naida Venture range continues and builds on that historical legacy.
Phonak have just launched the latest addition to their now famous Naida range, the new addition is based on the Venture chipset and brings all of the benefits of that platform to people with severe and profound hearing loss. The range is available in four levels of technology which include the V90, V70, V50 and V30. The original Naida was first launched in 2007 and it quickly became the go to hearing aid for treating people with severe to profound hearing loss.
Phonak has a long history with hearing solutions for people with severe to profound hearing loss. The new range brings new styles with much smaller and more powerful devices than available in the older Naida Quest range. It also introduces some great updated features with a new SoundRecover strategy to deliver as much speech information as possible without causing distortion.
Matt Gilbert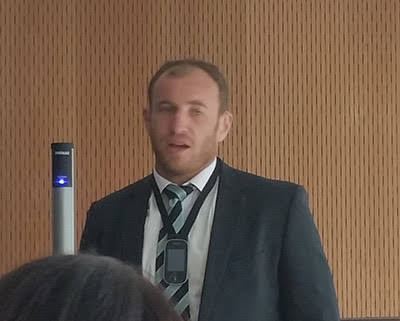 The launch event was attended by Matt Gilbert, who is an English rugby union footballer currently playing at Flanker and number eight for Worcester Warriors in the Aviva Premiership. Matt is the only deaf professional sportsman in England. In 2012 Matt was fitted with a Phonak Naida hearing device. Since then he has worked as a celebrity ambassador for Phonak, helping to raise awareness of hearing loss. He discussed his experiences with The Naida devices, he also explained how the ancillary wireless devices had changed his life.
An Integrated Solution
Matt has profound hearing loss which is difficult to treat and causes major issues with the things that we take for expected like using the phone and listening to TV. He said that Phonak devices and Phonak's wireless accessories like the com pilot and the TV link offer him an integrated solution. A solution that allows him to use his mobile phone and watch television with his wife without subtitles. Something that he was unable to do before, he felt that this integrated solution based strategy really made the difference for him, giving him freedom.
He can take his own mobile phone calls now, as opposed to having his wife do it for him. Matt also discussed using his hearing aids on the field when he was playing. He said that the robustness of the Naida gave him the confidence to use them on the field where they were bound to get knocked about a bit. He said generally there has been no issues and they have held up very well. He is quite an inspiring figure who has not allowed his profound hearing loss get in his way.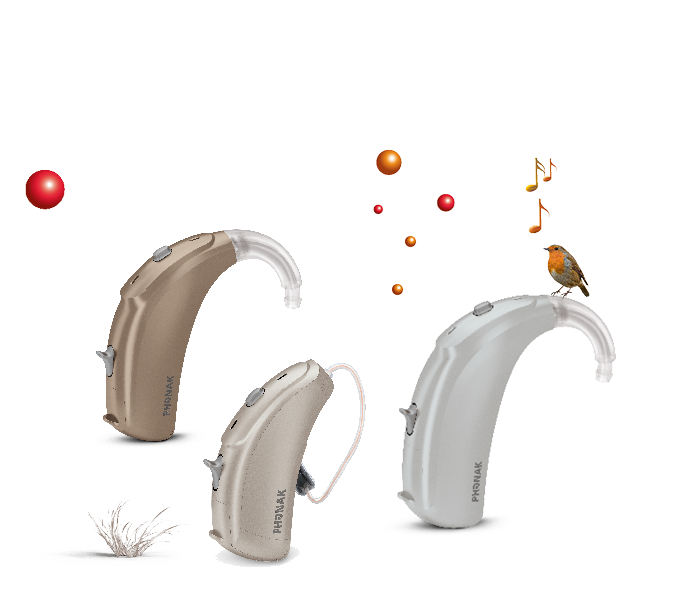 The hearing aids
Naida V RIC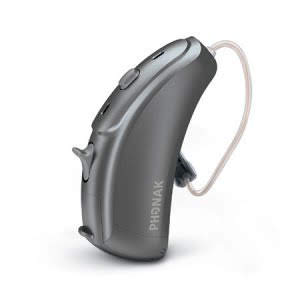 The Naida V RIC (Receiver in Canal) offers amazing power in a small package, it will deliver outstanding benefits for people with mild to severe hearing losses delivering power with discretion. The device which is a new form factor with a size 13 battery comes with three possible receiver options, the XS, the XP and the new X UP (for Ultra Power). The X UP option is a newly designed receiver which offers more output than the previous one. In essence the option will cover a more severe hearing loss.
With the introduction of a newly designed X UP receiver, the hearing aid will cover a hearing loss down to a flat 100 dB. This means that even people with a severe to profound hearing loss can avail of a very discreet solution without compromise in power or functionality. If this might be an attractive option for you, you need to be aware that there is some extra clean and care steps with a RIC device. As a RIC device, you will need to ensure that you take care of the receiver and follow a daily drying routine to ensure taht it does not fail from wax ingression or moisture build up.
Naida V SP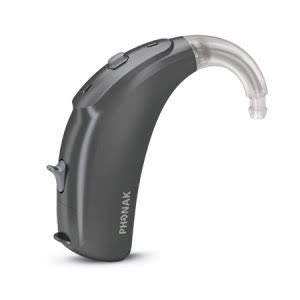 The new Naida V SP is 25% thinner than its predecessor, it is also a much smaller hearing aid. It runs on a size thirteen battery and can be fit with a power slim tube and tip which offers real discretion. The power slim tube can be fit with either acrylic or silicon custom tips. The device can also be fitted with a standard thick tube and mould configuration. The power slim tube has been re-designed by Phonak and it now sits lower on the top of the ear and hugs the face in a better way. This means that it is slightly more discreet than the last generation tubes.
The power output on the new SP has been increased and it now matches the power output of the older Naida Quest UP. This means that more people with severe to profound hearing loss can now avail of a more discreet option. The SP runs on a size thirteen battery which accounts for that smaller size, but the power management system that Phonak uses ensures that the battery drain is controlled. The device is a little bigger than the RIC but it is still a very small hearing aid. All in all it is a very discreet option which delivers a lot of power, something that many people with profound hearing loss really want.
Naida V UP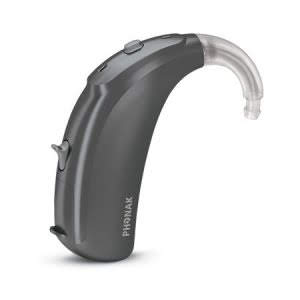 The new Naida V UP is again thinner and smaller than its predecessor with a new form factor. The power output on the hearing aid has been increased giving it even more performance for even the most profound hearing loss. It is powered by a 675 battery and can also be fitted with a power slim tube and custom tip. This is definitely one of the smallest 675 traditional type hearing aid solution for profound hearing loss. It will give people with profound hearing loss a more discreet solution.
Feature run down
Sound Recover 2
With a new version of Phonak's sound Recover strategy the Naida offers more high frequency cues than ever before. This allows access to the nuances of sound that you may not be able to hear. It delivers more speech information without causing distortion.
Water resistant
The range is rated to IP68, which means it will survive immersion in one metre of water for sixty minutes without damage. Phonak are circumspect about calling it water resistant, but another manufacturer calls this level waterproof. One way or the other this range will quite happily get in the shower and the pool with you without having to worry about it failing.
More robust
The casing is made with a new glass fiber reinforced material, the Naída V is now 60% more robust than its predecessor which together with its resistance to water should really give you confidence it won't fail you. Phonak know that this is important for people with profound hearing loss because without there hearing aids they are in a bind.
AutoSense
As part of the Venture platform the new Naida range benefits from Autosense and all of its features. This allows it to deliver the best possible experience in a range of sound environments.
If you have any questions about what we have discussed here, or you would like a hearing test, give us a call. You can take a look at all of the available Phonak hearing aids here.
Speak To Us If You Are Looking For any information on hearing aids, hearing loss or Relief From Your Tinnitus in Edinburgh

What Our Patients Say
Rated 5 out of /5 based on over 40 customer reviews
Hearing Aids
Hearing aids supplied and fitted to patient's individual hearing loss
Extremely Professional
This practice and all staff within are extremely professional. Katie will put you at ease the minute you sit in the chair. I have used this practice on numerous occations and came away extremely satified with the treatment i received. If you suffering with ear wax problems try them!! I guarentee you won`t be disappointed. You never know, you may even get a cuddle from POPPY!!!!!
Gordon Tyers
Hearing Aids
Hearing aids supplied and fitted to patient's individual hearing loss
Comprehensive and Meticulous
I am an experienced hearing aid user who recently attended Edinburgh Hearing Aid Practice for assessment. The latter was the most comprehensive I have experienced to date. Audiologist Katie was meticulous in arriving at the best solution for me. She has a positive and sympathetic approach which is so important in this sensitive area.
Philip Michaelson
Hearing Aids
Hearing aids supplied and fitted to patient's individual hearing loss
Friendly and Professional
My appointment with Katie was informative, professional and relaxed. She immediately put me at ease regarding the procedure I was about to have and advised me on the best earplugs to protect my hearing whilst playing loud music. I cannot recommend Edinburgh Hearing Practice enough. Receiving a friendly welcome from reception and a professional consultation made the whole experience worthwhile.
Greg Sivills
Hearing Aids
Hearing aids supplied and fitted to patient's individual hearing loss