2nd April 2015
The New Bolero V Hearing Aid Range
Meet The new Bolero V Family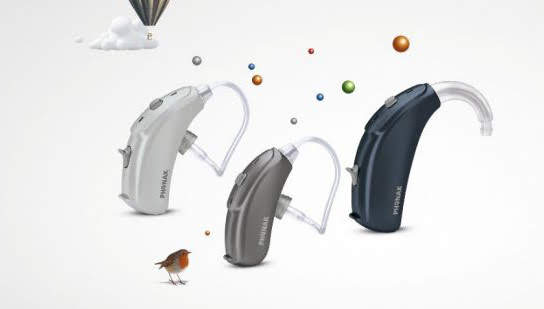 The new Phonak Bolero V hearing aids feature Phonak's latest high-performance technology and are designed to provide you a seamless listening experience. All this in an aesthetically appealing and robust design.
Newly designed models at different performance levels
Water resistant and dust tight
Connects to the entire Phonak Wireless Communication Portfolio
Styles and Colors
Designed to suit you
Phonak Bolero V is designed to suit your individual style and preferences. It comes in a choice of 11 colors, so you can match your personality, hair or skin with either vibrant or subtle tones. You can take a look at all of the very latest hearing solutions from Phonak here.

Programs, Features & Benefits
Phonak Bolero V covers a broad range of hearing levels and can be adapted to your needs over time. There is a tinnitus option available in all styles at all price levels. We can help you choose an optimal solution.
AutoSense OS

An outstanding automatic feature that seamlessly fits to your changing listening environment. AutoSense OS accurately captures the precise listening environment you are in to provide you with a comfortable, seamless listening experience throughout your day.
Speech in Loud Noise

The feature extracts the single voice you want to hear from a noisy crowd. When noise reaches a level that makes understanding one person in a crowd difficult, StereoZoom, Phonaks excellent microphone management solution, is automatically activated, allowing you to focus on the voice you want to hear and ignore the noise you don't.
Speech in 360°

Understand speech from any direction. Automatically selects the direction of speech and sends this speech signal from one ear to the other, improving speech intelligibility without the need to face the speaker.
Speech in Wind

Enjoy conversations even on a windy day. When wearing hearing aids wind noise interferes with speech understanding and listening comfort. The Speech in Wind feature enhances your ability to understand speech well, even when the wind is blowing.
Connect & Communicate
Phonak Bolero V is compatible with the Phonak wireless communication portfolio. These devices deliver quality sound, ease of use and support you across different situations. So you can just get on with living life.
Phonak Easycall

The Phonak EasyCall connects hearing aids wirelessly with any Bluetooth enabled cell phone. It binaurally streams the phone call directly to the hearing aids for maximum speech understanding.
Phonak Dect II

The Phonak DECT II is the ideal phone for use both at home or in a small office. The phone signal is streamed wirelessly to both hearing aids simultaneously. This provides unmatched sound quality and great understanding.
Phonak Conversation Set

The small and stylish Phonak ComPilot Air II Bluetooth streamer, combined with the RemoteMic, transmits a distant speaker's voice directly to both hearing aids over a distance of up to 20 meters (66 ft).
Phonak Entertainment Set

TVLink II, combined with ComPilot II provides high quality stereo sound directly to both hearing aids when watching TV or listening to music. 24 hours continuous streaming time and 30 meters range.
Interested in Phonak Hearing Aids in Edinburgh ?

What Our Patients Say
Rated 5 out of /5 based on over 40 customer reviews
Hearing Aids
Hearing aids supplied and fitted to patient's individual hearing loss
Extremely Professional
This practice and all staff within are extremely professional. Katie will put you at ease the minute you sit in the chair. I have used this practice on numerous occations and came away extremely satified with the treatment i received. If you suffering with ear wax problems try them!! I guarentee you won`t be disappointed. You never know, you may even get a cuddle from POPPY!!!!!
Gordon Tyers
Hearing Aids
Hearing aids supplied and fitted to patient's individual hearing loss
Comprehensive and Meticulous
I am an experienced hearing aid user who recently attended Edinburgh Hearing Aid Practice for assessment. The latter was the most comprehensive I have experienced to date. Audiologist Katie was meticulous in arriving at the best solution for me. She has a positive and sympathetic approach which is so important in this sensitive area.
Philip Michaelson
Hearing Aids
Hearing aids supplied and fitted to patient's individual hearing loss
Friendly and Professional
My appointment with Katie was informative, professional and relaxed. She immediately put me at ease regarding the procedure I was about to have and advised me on the best earplugs to protect my hearing whilst playing loud music. I cannot recommend Edinburgh Hearing Practice enough. Receiving a friendly welcome from reception and a professional consultation made the whole experience worthwhile.
Greg Sivills
Hearing Aids
Hearing aids supplied and fitted to patient's individual hearing loss