30th August 2019
Phonak Release Marvel 2.0 Upgrade
More Choice, More Connectivity, More Performance
Phonak announced the introduction of Marvel 2.0, the next generation of their Marvel technology. They say their latest update has been developed to give hearing aid wearers even more hearing performance, more connectivity and more choice. Marvel 2.0 is a mixed strategy, it is an upgrade to the functionality of existing Marvel hearing aids, the introduction of RogerDirect™, and finally the expansion of Marvel technology to more form factors. Let's take a look.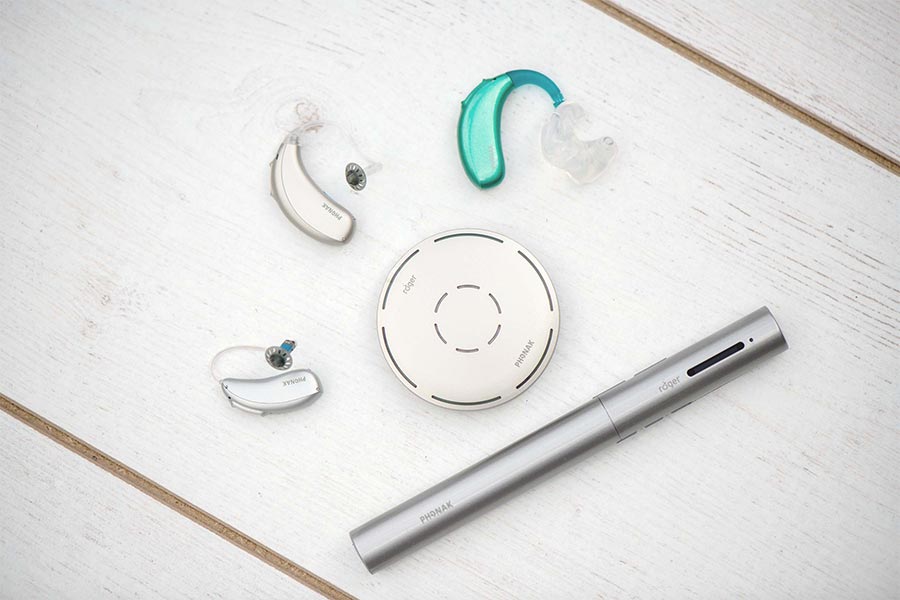 More Hearing Aid Types
Phonak is expanding the Marvel Audeo range with the new Audéo™ M-RT, which they say is the world's only all-in-one hearing aid combining direct connectivity with iOS and Android, T-coil and rechargeability.
This is the second rechargeable hearing aid to be offered in the Audeo range. While it offers clear, rich sound, universal Bluetooth® connectivity, lithium-ion rechargeability and binaural direct streaming like the other device, it has an integrated telecoil for people who like to use hearing loops.
Phonak Bolero™ Marvel
They have also expanded the Marvel platform beyond the Audeo range to deliver more choice for consumers. They have now introduced the Bolero range, which consists of two hearing aid styles. The Bolero Marvel M is the first BTE hearing aid that directly streams all audio content from iOS® and Android™ devices. The Bolero Marvel range will also feature a built-in rechargeable lithium-ion battery, giving wearers a full day of hearing including streaming on a single charge.
The Bolero Marvel M is a 312 powered mini-BTE hearing aid that can be used with either traditional tubing and an earmould or thin tubing.
The Bolero Marvel PR is a slightly larger BTE hearing aid that offers all that the M does but with an added telecoil. Again, an outstanding offering for people who like to use hearing loops.
Phonak Sky™ Marvel
They have also introduced a new Marvel range for children, the Sky M product family introduces the outstanding Marvel technology to children. It offers trusted Phonak technology to give children only the best for speech and language development as well as speech intelligibility and ease of use. The Sky M lineup will be available in a wide range of colours and sizes and is designed to help children with mild, moderately severe, severe and profound degrees of hearing loss.
RogerDirect
Roger® technology is seen as the gold standard for assistive hearing technology. Roger devices help to bridge the understanding gap in loud noise and over distance by wirelessly transmitting a speaker's voice directly to the listener. Up to now hearing aid wearers had to plug an extra receiver and/or audio shoe into their hearing aids or use an intermediary streamer to receive the Roger signal.
The upgrade means that Marvel hearing aids with RogerDirect will eliminate the need for extra components or accessories needed to receive the Roger signal. That means direct connection without fuss and ungainly audio shoes or streamers. All current Audéo Marvel wearers can access the RogerDirect feature via a firmware upgrade available from us.
More Connectivity
In addition to full access to RogerDirect, upgraded Marvel hearing aids will now be capable of pairing two Bluetooth audio devices at the same time. One of the bugbears for people with Marvel hearing aids who liked to use their phones and computers with them, was having to switch between them. The new upgrade means that they won't have to. With the optional TV Connector, Marvel wearers can also stream high definition audio from their TVs directly to both hearing aids while keeping two Bluetooth slots open for their other devices
New App
Phonak are also launching an updated myPhonak app that is designed to give wearers a more enhanced and personalized hearing experience. The new app offers everything in one place, Remote Support, your Hearing Diary functionality, and now a new more advanced remote control. It offers customization options including power over the level of noise reduction, speech focus and more.
If you have any questions about Marvel hearing aids from Phonak in Edinburgh, are looking for a hearing test, or are interested in ear wax removal, give us a call on 0131 629 1819 or contact us online now.

What Our Patients Say
Rated 5 out of /5 based on 3 customer reviews
Hearing Aids
Hearing aids supplied and fitted to patient's individual hearing loss
Extremely Professional
This practice and all staff within are extremely professional. Katie will put you at ease the minute you sit in the chair. I have used this practice on numerous occations and came away extremely satified with the treatment i received. If you suffering with ear wax problems try them!! I guarentee you won`t be disappointed. You never know, you may even get a cuddle from POPPY!!!!!
Gordon Tyers
Hearing Aids
Hearing aids supplied and fitted to patient's individual hearing loss
Comprehensive and Meticulous
I am an experienced hearing aid user who recently attended Edinburgh Hearing Aid Practice for assessment. The latter was the most comprehensive I have experienced to date. Audiologist Katie was meticulous in arriving at the best solution for me. She has a positive and sympathetic approach which is so important in this sensitive area.
Philip Michaelson
Hearing Aids
Hearing aids supplied and fitted to patient's individual hearing loss
Friendly and Professional
My appointment with Katie was informative, professional and relaxed. She immediately put me at ease regarding the procedure I was about to have and advised me on the best earplugs to protect my hearing whilst playing loud music. I cannot recommend Edinburgh Hearing Practice enough. Receiving a friendly welcome from reception and a professional consultation made the whole experience worthwhile.
Greg Sivills
Hearing Aids
Hearing aids supplied and fitted to patient's individual hearing loss